Before the Interview
Words of Advice: Prepare and practice!

You might be looking for "just a part-time, after-school (or summer) job" but that won't be the case forever. And some of you might be planning to work (rather than attend college or join the armed forces) right after high school.
Learn the correct interview preparation and technique now and it will help you later, too. Also, do your homework. Learn about the company. Research either online or in books and magazines.
What's in it for them? Know what you can offer the company. What qualifications and experience do you bring? What traits do you have that can help convince them to hire you. Of course, different jobs require different traits and qualifications. Think about yourself. Are you people-oriented? Punctual? Do you like numbers? Do well in math at school? Are you outgoing? Think about what makes you the person for the job…and then practice saying it.
And the answer is… Research the types of questions that you might be asked. Several sites are available that can help you. Also, many books have been written on the subject. While you can't expect yourself to memorize every possible question and your planned answer, it will help if you're aware of some of things that might be asked.
You can't ask that! Did you know that there are some questions that employers are not allowed to ask you? Many of the same resources for potential interview questions also list the questions that may not be asked. These questions are based on guidelines established by the U.S. Equal Employment Opportunity Commission (EEOC). These guidelines deal with discrimination due to such traits as gender, religion, national origin, and age. Visit the EEOC's Web site for more information.
Practice:
Introducing yourself clearly
Shaking hands firmly
Talking about yourself (with regard to your work habits and qualifications)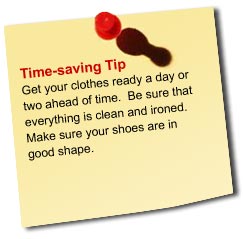 Prepare your:
Appearance – Um, cleanliness is a good thing. Need we say more?
Clothing – Dress neatly. If the interview is for an after-school or summer job, consider business casual wear such as khakis and a nice shirt.
Hair – Did mom or dad ever tell you to get your hair out of your eyes? Well, now's a really good time to listen to that bit of advice. After all, it's difficult to look your interviewer in the eyes if you can't see!
(About those piercings and tattoos – Let's just say that whether or not you keep those will depend on where you're planning to work!)

During the Interview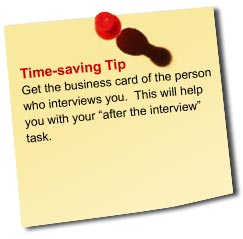 They can make you nervous, but you can survive a job interview! A few tips:
When greeting your interviewer, speak clearly and shake hands firmly.
Look at the interviewer when he or she is talking to you – and when you're speaking.
Answer the questions that you're asked. Don't go off on a tangent; stay focused.
Speak clearly using proper English. Mumbling is not a polite form of communication…and slang or casual speech should be limited to times with your friends. It might be your "style" to use certain catch phrases or speak in a certain slow and funky way. But the interview is not about being popular; it's about getting a job!
Be honest. Lying about your experience or accomplishments is unethical.
Prepare for follow-up – Before you leave, ask the interviewer for his or her business card. This will help you with your "after the interview" task.
After the Interview
Send a letter thanking the interviewer for his or her time. Express your interest in the position.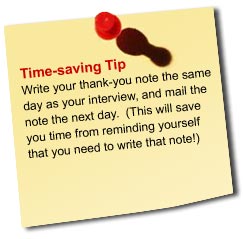 If you don't get the job, keep trying. Consider every interview as an opportunity to polish your interviewing skills. (Sometimes it takes a few interviews before anyone is really comfortable talking about their qualifications!)
For additional information about looking for a job and interviewing, check out these resources: