If you take out a loan and make your payments on time, this will help you establish a good credit record. Still, just as you should do when you're considering getting a credit card, you should shop around for the best loan.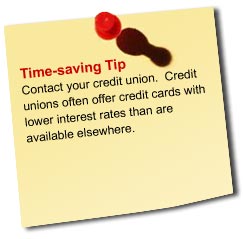 Once you know how much money you want to borrow, contact your credit union and other financial institutions to learn about the loans that they offer.
When you're shopping for your loan, here is some information that you'll need:
Loan amount – The total dollar amount for this loan

Interest rate – The interest rate on this loan
Loan term – The number of years over which you will repay this loan.

Monthly loan payment – Monthly principal and interest payment (PI).

Annual percentage rate (APR) – A standard calculation used by lenders. It's designed to help borrowers compare different loan options. For example, a loan with a lower stated interest rate may be a bad value if its fees are too high. But a loan with a higher stated rate and very low fees could be an exceptional value. APR calculations incorporate these fees into a single rate. You can then compare loans with different fees, rates or different terms.
Once you have the information from your potential creditors, compare that information.